Our room prices and how to get into contact
SINGLE : £40
2 PERSON : £56
3 PERSON From £65
6 or 8 PERSON : From £100
SPECIAL PRICING FOR OFF-SEASON 2022-2023
From 22nd October 2022 to March 2023 we offer special prices under the following conditions:
We only accept groups numbering from 6 to 23 persons AND for a minimum of THREE nights stay. CALL FOR PRICING!
Last check-in is at 9pm - After 2100hrs £20.00, after Midnight £50.00
CREDIT & DEBIT CARDS ARE NOT ACCEPTED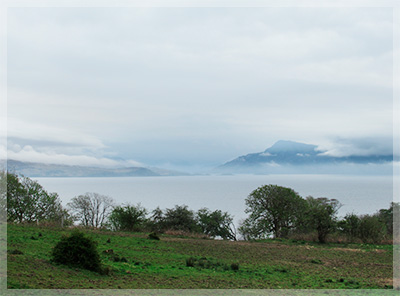 Beautiful views from Skye to the mainland of Scotland
The Flora Macdonald hostel is situated in the "garden" area of Skye (arguably the best scenery on the island) and is easily reached from the Scottish mainland either by the Skye Bridge at Kyle of Lochalsh or by the Mallaig - Armadale ferry. There is a Private Car Park for patrons sole use and the accommodation is totally non-smoking. Our main house rule is NO NOISE AFTER MIDNIGHT and this is for the consideration of other guests.
Mr and Mrs Macdonald are breeders of rare Eriskay ponies and offer you a warm highland welcome to their part of the world.
CONTACT DETAILS
For Booking and all other enquiries please E-mail: thefloramacdonaldhostel@btconnect.com
Or contact Fiona Mccabe 07503 196 227
Flora Macdonald Hostel,
3 Kilmore,
Sleat,
Isle of Skye
IV44 8RG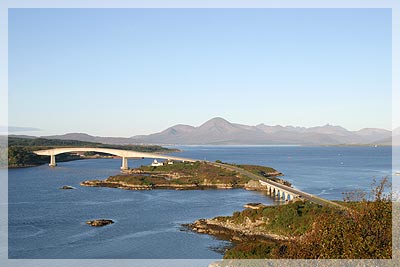 The Skye Bridge - now free to cross
The Hostel is situated just north of Armadale pier, on the main bus route to Broadford and Portree.
To get here take the road over the now free Skye Bridge and just outside Broadford turn off the main road towards Armadale. Just 2 miles before Armadale is the turning to Kilmore.
A limited selection of frozen and dried food is available to purchase on site and guests can use our kitchens to prepare this for themselves.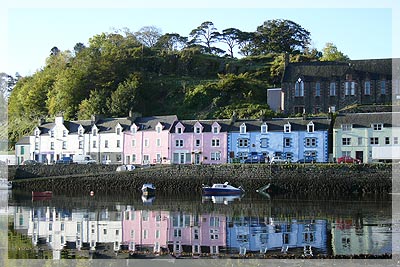 Portree Harbour - traditional cottages