Skye Hostel Rooms
Flora Macdonald Hostel is divided into 2 buildings The Hostel and The Lodge. There are a total of 5 Rooms as follows:-
Budget Private Room (4 persons) 18 pounds per person per night
Budget Private Room (5 persons) 18 pounds per person per night with PRIVATE BATHROOM
Budget Private Room (6 persons) 18 pounds per person per night with PRIVATE BATHROOM
Budget Private Triple (3 persons) 18.50 pounds per person per night
Budget Private Twin (2 persons) 21 pounds per person per night
The hostel is graded by the Scottish Tourist Board as 3 stars.
Our prices are the same all year round.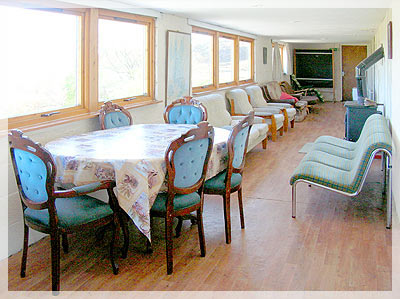 The main hall and dining room
THE HOSTEL & THE LODGE
The accommodation comprises of two buildings. The original Hostel is a spacious converted stone farm building. It has a modern fully equipped kitchen. The common area has a wood burning stove and plenty of seating and tables. This building has two large private rooms furnished with wooden bunk beds. Each room has private en-suite shower and toilet facilities. These rooms are designated as being for groups of five and six respectively. Although on exceptional occasions, and with the consensus of guests and the owner, additional beds can be added for larger groups looking to rent this building.
THE LODGE
The second modern building is adjacent and has three private rooms. These have capacity for two, three and four guests respectively. All the facilities in this building are shared. This building has a fully equipped kitchen and its own shower and toilet. These bedrooms also have bunk beds. Each room has a television.
In both buildings sheets and duvets are supplied.
This is a no smoking property.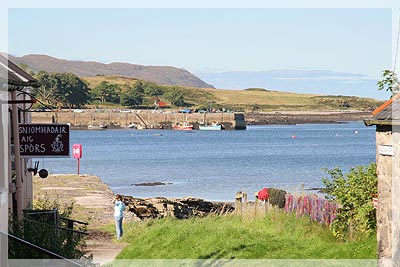 The village of Broadford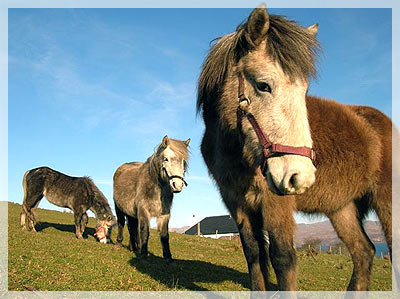 The Eriskay Ponies in the hostel grounds
Contact
telephone: 01471 844272 or 01471 844440
E-mail: thefloramacdonaldhostel@btconnect.com
Flora Macdonald Hostel,
3 Kilmore,
Sleat,
Isle of Skye
IV44 8RG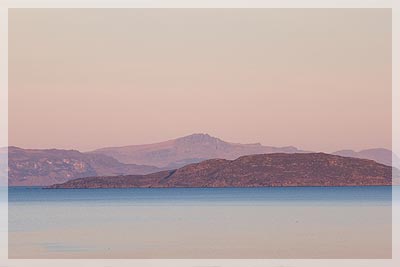 Looking towards Portree