Skye Hostel Accommodation
Flora Macdonald Hostel on the Isle of Skye
The Flora Macdonald Hostel has now been converted from dormitories into private rooms, offering budget private rooms for 1, 3, 4, 5 and 6 persons. For groups we can take 20 guests. The hostel is and has been very popular destination for more than 10 years with many groups who stay coming back year after year.
The Skye Hostel is situated amidst scenery that literally takes your breath away, visitors usually remark on the awesome views. Sunrise over the mountains of Knoydart across the loch can be sensational. The are of Skye in which the Hostel is situated is called Sleat (pronounced SLATE) is locally referred to by locals as the Garden of Skye and is a popular base from which many visitors tour the whole Isle of Skye. The Hostel is become popular with families and backpackers alike. We are just half a mile from the Gaelic College "Sabhal Mor Ostaig"
Sleat is popular with lovers of outdoor pursuits and with those who wish to explore the rich heritage and culture of the Isle of Skye.
Please note that the Hostel is three miles from the nearest shop. So ensure you bring food and day to day supplies with you.
The Hostel is owned and operated by Peter Macdonald, direct descendant of Lord of the Isles, Macdonald chiefs and Robert the Bruce. He is also a local historian and gives lectures on the real story of Flora MacDonald, heroine of the 1745 rebellion. He can reveal every detail of of Skye, its history, its culture, its people, the mountains and wildlife from BC to the present day.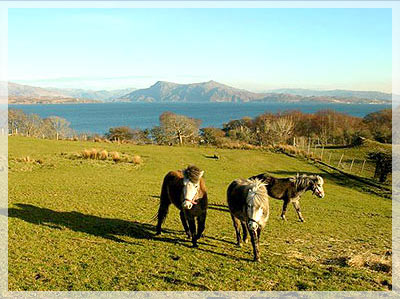 The Eriskay Ponies and the view from our hostel on the Isle of Skye
From Easter through to October the Hostel can get totally booked up so it is advisable to make a reservation well in advance. With our hostel just 2.5 miles from Armadale ferry it is the perfect place to start or end your visit to the outer Islands of Lewis and Harris.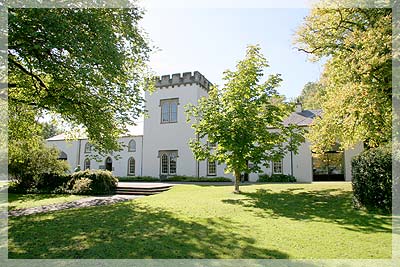 The Clan Donald Centre near the Hostel
The Hostel is situated just north of Armadale pier, on the main bus route to Broadford and Portree.
To get here take the road over the now free Skye Bridge and just outside Broadford turn off the main road towards Armadale. Just 2 miles before Armadale is the turning to Kilmore.
Please note that the nearest shop is 3 miles distant and closes daily at 6pm. The shop is also closed at weekends.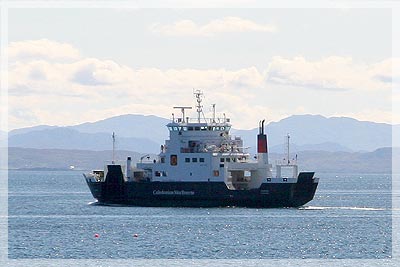 The Skye Ferry crossing between Mallaig on the Mainland and Armadale on Skye
Contact telephone: 01471 844272 or 01471 844440
E-mail: thefloramacdonaldhostel@btconnect.com
Flora Macdonald Hostel,
3 Kilmore,
Sleat,
Isle of Skye
IV44 8RG
My personal contact email is:-